SBU Teddy Bear Clinic – May 13th, 2023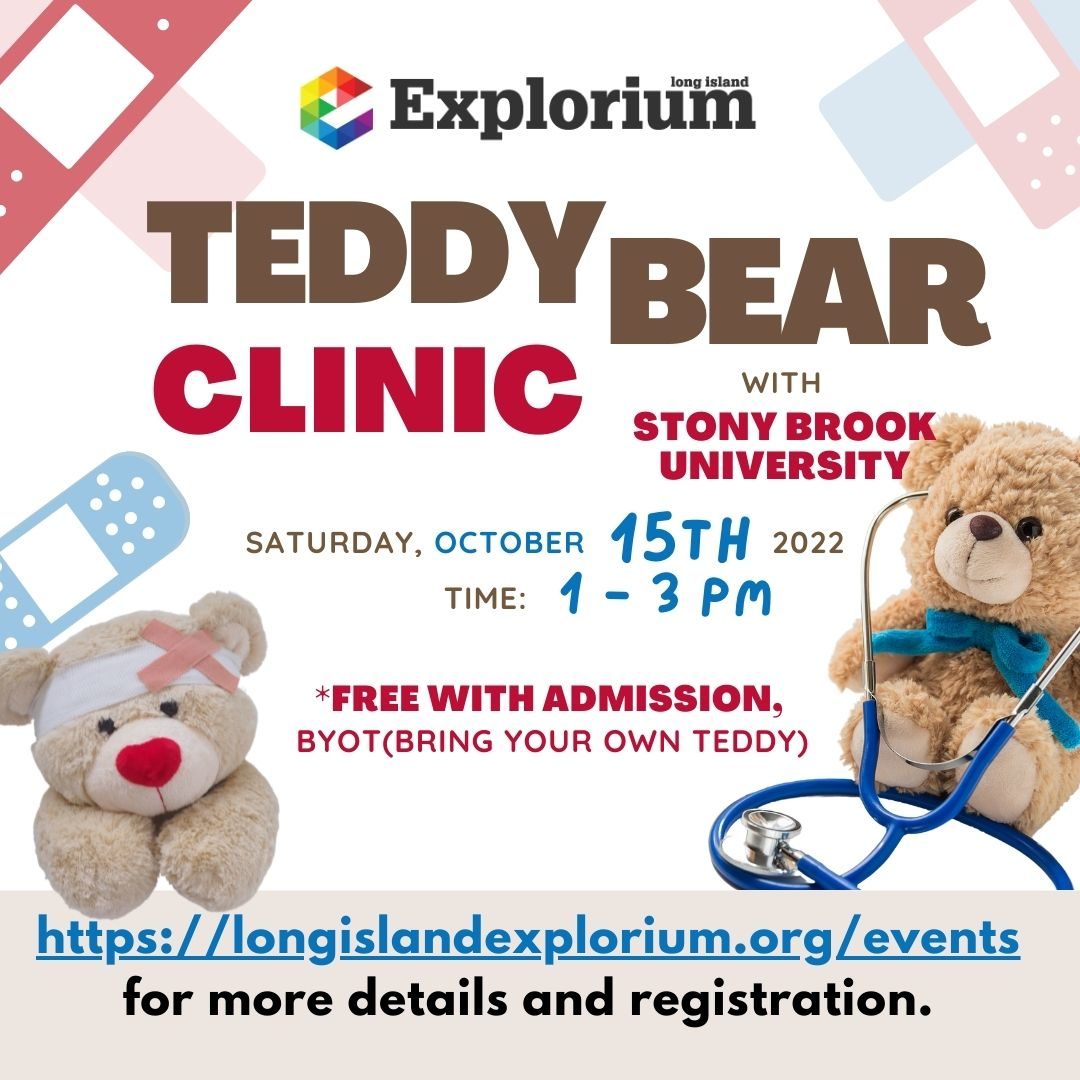 May 13th, 2023
Teddy Bear Clinic with Stony Brook University
One of our favorite events is back! Don't miss this unique workshop at Long Island Explorium with special guests from Stony Brook University. Bring in your favorite teddy bear for a check-up and learn about health and wellness in a fun and interactive way.
Stony Brook University Nursing Department will be on hand to help you check your teddy's vital signs, give them a vaccine shot, learn to bandage boo-boos, check mental health, and promote body positivity and good nutrition.
This event is free with admission; bring your own teddy bear. 
---
SPACE IS LIMITED; Register now to confirm and hold your spot for this exciting and favorite event! 
If you have any technical issues registering, use the form below to contact us.
If you are interested in any event that is sold out, or have questions use the form below to be placed on our Wait List.  Please indicate the date & event you would like to be placed on the wait list for.
If you would like to book private use of the Explorium at other times than currently scheduled, please contact us at info@longislandexplorium.org.
Founded in 2005, the Long Island Explorium is committed to the development of programs and exhibits deeply rooted in research and evidence-based practice. Our programs are aligned with NYSSLS, ELA, Math and Social Studies Standards.
These events are organized by the Long Island Explorium, and provided free of charge in our support of children and STEM enrichment. If you would like to support this or any of our program, please consider a donation of $10 to the Explorium by visiting our Support Page https://longislandexplorium.org/support-us/ 
Please view our Visit Us page to learn more about our reopening and enhanced protocols, https://longislandexplorium.org/visit-us/