Here's what's happening in June!!
June...
May...
April...
Limited Time Partnership with CMEE
April Spring Break Camp
March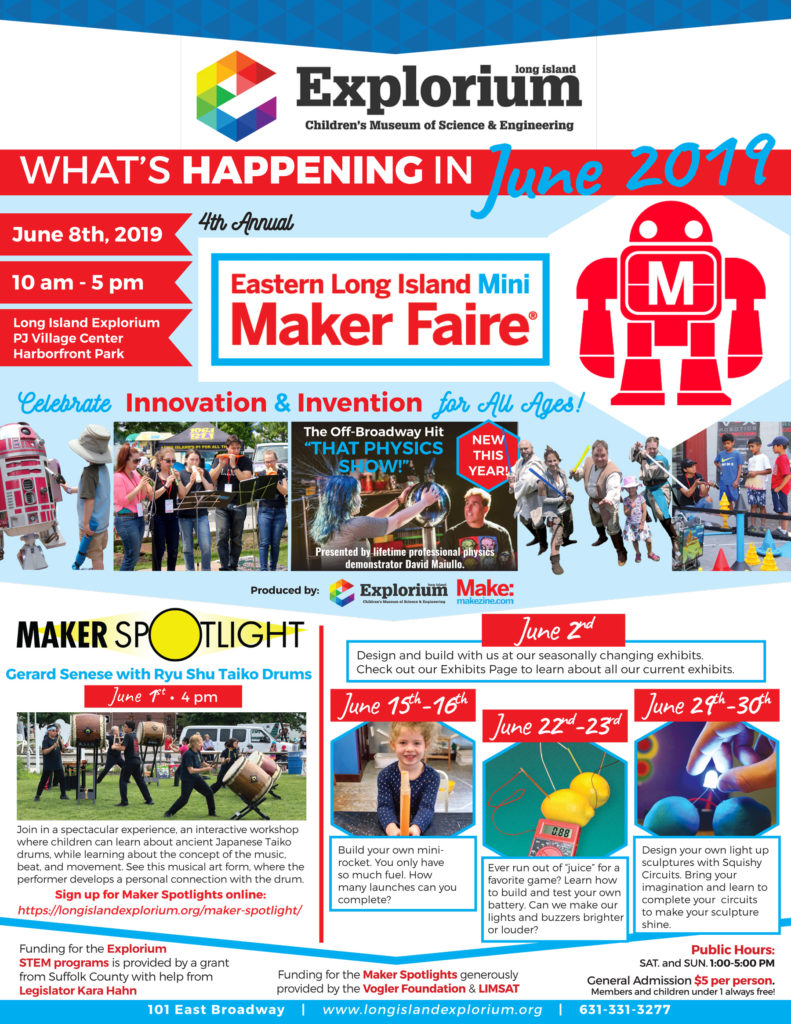 Limited Time Partnership with CMEE
April 4
Thursday After School Art Class Series: Installation Art
Transform - the young artists will explore what is means to transform a space and have the ability to make changes through ephemeral installation.
April 6-7
Tesla Visiting Exhibit
We debut our visiting exhibit from the Tesla Science Center. Join us in discovering the "Science of Sound" through the inventions of the great scientist Nikola Tesla.

Get hands-on with a singing Telsa coil. Experience musical lightening. Play with voice and vibration devices, and more, all afternoon.
April 13
Maker Spotlight: Anurag Purwar & SnappyXO Robots
We welcome Professor Anurag Purwar who will share his famous SnappyXO robots. Join us and start building your own robot.
April 14
Tesla Visiting Exhibit
Explore the "Science of Sound," our visiting exhibit from the Tesla Science Center. This week, get great vibrations by trying out a musical theremin player.
April 20
Tesla Visiting Exhibit
The Science of Sound from the Tesla Science Center is with us for two more weeks. Saturday, April 20, we feature a singing Tesla Coil. Come in and experience musical lightening, and a variety of voice and vibration devices.
April 21
Closed for Easter
April 22-26
Open all week for Spring Break 1-5pm
Explore various species of butterflies by creating your own butterfly feeder!
April 23
Atlantic Marine Conservation Society
Learn about how our local marine environment is harmed by marine debris such as littered straws, plastic bottles, and "ghost" fishing gear. Learn how you can help save marine wildlife by monitoring our beaches.
April 27
Maker Spotlight: Stony Brook University GEO Club
The Stony Brook University Graduate Education Outreach (GEO) Club returns to help us design, construct, and test our own catapults using some cool, but common materials. We'll consider the art of design and the physics of launching in this hands-on engineering challenge.
April 28
Tesla Visiting Exhibit
It's the last week to tinker around with the "Science of Sound," on loan to us from the Tesla Science Center. On Sunday, April 28, 1:30 -3:30, use the theremin player to make beautiful sounds. Play with the voice and vibration devices all afternoon!
March 2-3
Celebrate Dr. Seuss's March Birthday With The Explorium
Kids can whip up a batch of oobleck at the Long Island Explorium in Port Jefferson this weekend. aaaa What is oobleck you ask? It's an unusual liquid with varying viscosity made popular in Dr. Seuss' book Bartholomew and the Oobleck. It's actually just water, corn starch and food coloring mixed together.  Kids are welcome to do their own chemistry experiments with the goo.
March 7
Surrealism, Dreaming, and Art
Let's talk Surrealism and experiment with magazines, pictures, pastels, and more to create a surrealist collage.
March 9
Maker Spotlight:  Moira Chas, SBU mathematician
Maker Spotlight:  Moira Chas, SBU Mathematician Celebrate Pi Day with Stony Brook University mathemetician Moira Chas. We have various solutions and wand-making materials. Now it's up to you to make 3-D wands for making bubbles. 
March 16-17
Happy St. Patrick's Day
Be a green engineer and design a trap to lure lost leprechauns. We want to safely transport the leprechauns to their pots of gold in the land of rainbows.
March 16-17
Happy St. Patrick's Day
Be a green engineer and design a trap to lure lost leprechauns. We want to safely transport the leprechauns to their pots of gold in the land of rainbows.
March 23
Maker Spotlight:  Artelier Artist Maker
Ever stitch with a sewing machine or a big plastic needle? Come join us and create your own fabric art with our resident artist, Ms. Ama.
March 28
Painting with Fabric
Have you ever painted with fabric? We will create a still life with different color textiles and fibers.
March 30
Maker Spotlight:  GEO Club
GEO STEM CLUB Rainstorm in a Jar:  Work with Stony Brook University Graduate Students to make a "rainstorm in a jar."
February 2-3
"Ring of Fire" and "Miles of Tiles."
The Long Island Explorium is proud to present exhibits from the Museum of Mathematics in NYC: "Ring of Fire" and "Miles of Tiles." Don't miss these 8 week traveling exhibits! Join us and create surprising lines with solid shapes at "Ring of Fire". Create tantalizing tesselations at "Miles of Tiles".
February 9-10
Message in a Bottle
All month long our theme is love and this weekend we create a message in a bottle. Design a heartfelt note for someone you respect, appreciate, or value.  Celebrate the season of love at the Explorium.
February 16
Maker Spotlight: Biomedical Engineering Society at Stony Brook University
Biomedical engineers fix common health problems. Share your ideas to help ACL injuries or ways to help hands stay safe when cooking? Then, put electrodes on your strong arm, and wrestle with a friend. Let's see how high you can move the lever.
February 17
Museum of Mathematics Exhibits
National Museum of Mathematics exhibits "Ring of Fire" and "Miles of Tiles" are at the Explorium! Last day of exhibition - March 24th, 2019.
February 18 -22
Winter Break "Ala-Carte" STEAM Camps
By popular demand, we are offering FIVE days of our well-loved unique STEAM workshops! You can register for 1 or 2 or ALL 5 days. There's something for everyone of ALL ages and Every day is a unique experience!
February 23
Potato Astronauts
Potato Astronauts: Design and test spacesuits for "Potato Astronauts" with Stony Brook University's Graduate Education Outreach Club.
January 5-6
Let's set things in motion using chemistry!
Become an oceanographer and discover how density is used to study the ocean by creating your own ocean in a lava lamp.
January 12-13
Have fun with Ozobots!
Robots that you can code, create and play with in endless possibilities.
January 19-21
Dr. Martin Luther Jr. Day
In honor of this day, let's create works of art that celebrate the beauty and diversity of each and everyone all weekend.
January 21, 9 am - 12 pm.
Special Art Camp with artist Amarilis Singh from Artelier
We will be exploring the possibilities of transforming paper into tri-dimensional forms to create a sculpture.
January 26 -27
Color Chromatography!
Discover the science of colors by finding hidden colors in water-soluble makers.
December 1
Maker Spotlight: Smithtown Robots
The Smithtown Robotics team will be at the Long Island Explorium on December 1st demonstrating our 120-pound competition robot, which was built in just six weeks! They will also have interactive activities with Ozobots and Vex bots for technology enthusiasts of all ages. "
December 2
Maker Spotlight: Cara DiGirolamo
Our Maker Cara DiGirolamo is a journeyman maker and illustrator. Marbling is a curious art form that creates unique and dynamic images on paper or other objects. Marbled papers are traditionally used in bookbinding and calligraphy but are also great for origami and scrapbooking. Kids will learn how to make marbled paper and have fun creating works of art.
December 8-9
Let's Celebrate Light!
Explore patterns while creating a luminary to light your path.
December 15-16
Let's Celebrate Snow!
Explore the science of snowflakes and make one to take home!
Dec. 22nd-23rd, Dec. 26th-31st
Let's Celebrate the New Year!
Explore the principles of geometry and design your own Times Square Ball.
November 3
One of Our Favorite Makers is BACK
Ray Rumore from Ray's Robot will be at the Explorium on Sat. Nov 3 at 1:30pm until 3pm. Come join him and build your own "Bristle Bot". While supplies last!
November 3-4
Communicate With Me
How to Say "Communicate With Me" in nine languages! Learn how nano-technology is used in communication, explore the international Code of Signals, design your own code to use with friends and send messages!!
November 10-11
Wanted: FBI Agents
Wanted: FBI Agents for fingerprinting! Use our materials to practice your skills in Forensic Science! Make all kinds of "prints" that are uniquely yours!
November 17
Celebrate National Geopgraphic's Geography Awareness Week
Maker Spotlight: Join Marine Archaelogy Divers for an interactive activity and become marine archaelogist to discover what happened to the sunkin ship many years ago. Let's uncover some buried treasure!
November 17-18
Be A Wildlife Detective
Discover the "Animal Prints" of various animals as they leave their tracks when they gather food in the winter! Create your own prints as you create their natural habitats!
November 23-25
Let's Celebrate Nature
Patterns, pattern, Patterns everywhere! Discover how nature beautifully illustrates the Fibonacci sequence. Have fun creating beautiful keepsakes using patterns from Nature.
October 6-7
National Space Week
We're celebrating the UNited Nations National Space Week. Come join our special guest from the Cradle of Aviation. We'll have exciting activities to elarn how "Space Unites the World".
October 13-14
Earth Science Week
Let's Celebrate this year's Earth Science Week with the themes of "Earth as Inspiration". We're gong to discover the reasons why an earthquakes happens. DO you know which earthquake happened on your birthday? Let's find Out!
October 20-21
National Chemistry Week
It's National Chemistry Week - Chemistry is OUT of this World! As one of only 250 organizations nationwide to receive the National Informal Science Education Chemistry kits, let's have some fun with wacky chemistry activities!
October 27
Member Appreciation Day
All members are invited to come join us on Oct 27th. Come enjoy some Halloween fun and games, a bagel brunch and of course, all the Explorium has to offer. Come dressed in a costumne and get a goody bag to go.
October 27-28
Halloween Week
We all have a favorite old t-shirt/s. Let's create a fun bag to collect our favorite candies for Halloween and reuse our handmade bags ALL year round.
September 8-9
What kind of house would a robot like to live in?
Come build a "house" for Vernie, our Lego robot to live and have fun in at the Explorium! I bet he would love a "rollercoaster" in his bedroom!
September 15-16
Sad summer is over?
Well, not at the Explorium! Come join us as we explore our beautiful Port Jefferson Harbor front and do some late summer gardening. Special exploration program on Sept 16th at 1:30pm and 3 pm. First come, first serve.
September 22-23
NO more straws!
Let's keep straws out of our landfill. We're going to "Recycle, Reuse, Repurpose" straws into creative inventions.
September 29-30
Come have fun with Little Bits!
Build a "Bubble Bot". Build your own bubble blowing contraptions while learning about circuits and invention! Let your imagination guide your next invention!
August 1-5
Are you having fun with your shadow like Moonbear?
Come join us as we investigate, play, and try to "scare" away our shadows!
August 8-12
Let's have fun with that A in STEAM and create a "Masterpiece" using shore materials.
(Camp Week) Will you design and build a statue from natural materials, a collage of garbage that has no place on our beaches, a beautiful necklace out of shells? Or do you have another idea in mind?
August 15-19
Come and visit our beautiful native plant garden in full bloom.
Borrow an exploration "backpack" from the Explorium and be a 'plant detective'!
August 22-26
Gone Fishing!
Make your own fishing pole with a magnet to lure and attract your own fish! How big a fish can you catch? What "bait" works best?
August 29- September 02
Bridge Building Using a variety of materials, design
Build a structure that spans our "river" and supports as much weight as possible!
July 5-8
It's "Patriotic Polymer" Time!
Make the perfect Patriotic Phlubber using the materials provided.
July 11-15
Green Engineering Challenge-
Design and Construct a Car using recycled Materials.
July 18-22
Bait Your Hook!
Design Bait that attracts fish.
July 25-29
Ships Ahoy!
Design a Rocky Shoreline with a Lighthouse to keep ships safe.
June 2,3
Explore the Mysteries of Our Planet Earth
June 2- Create Paper Mountains as you experience the dynamics of the pull of gravity.
June 3- Experience the Strong Protective Magnetic Field of our Planet Earth.
June 9
Eastern Long Island Mini Maker Faire
The Greatest Show and Tell on Earth! 10 am – 5 pm, Port Jefferson Village Center, Harborfront and Long Island Explorium. Buy your tickets now!
June 10
Design and Create a Model to illustrate the different Phases of the Moon.
June 16,17
Happy Fathers Day!
Using a variety of materials, design ,create, and Launch a Rocket with your Dad!
June 23,24
Bug Houses!
Join us to design and construct Homes for Invertebrates using Native Plant Materials.
June 30, July 1
Discover the Science behind Ice Cream as you Measure, Shake,and Taste your Ice Cream.
May 5-6
Exoplanet Transits
Design a Transit Method to assist NASA scientists' search for distant planets.
Maker Spotlight!
May 5 – Ray and his robot " Volt". Teach kids to make their own Bristlebots
May 12-13
Message in a Bottle for A Special Woman in your Life
Write a Heartfelt message and place in a decorated bottle for a Keepsake for your Mother.
May 19-20
Space Telescope
Design, build, and test a tool to discover new discoveries to better understand the Universe.
May 26-27
Mars Rover
Program a Mars Rover to navigate and collect valuable information for NASA Scientists (good to match with a coding activity)