Maker Faire Long Island. The Greatest Show and Tell on Earth.
Welcome to our 1st Student Maker Day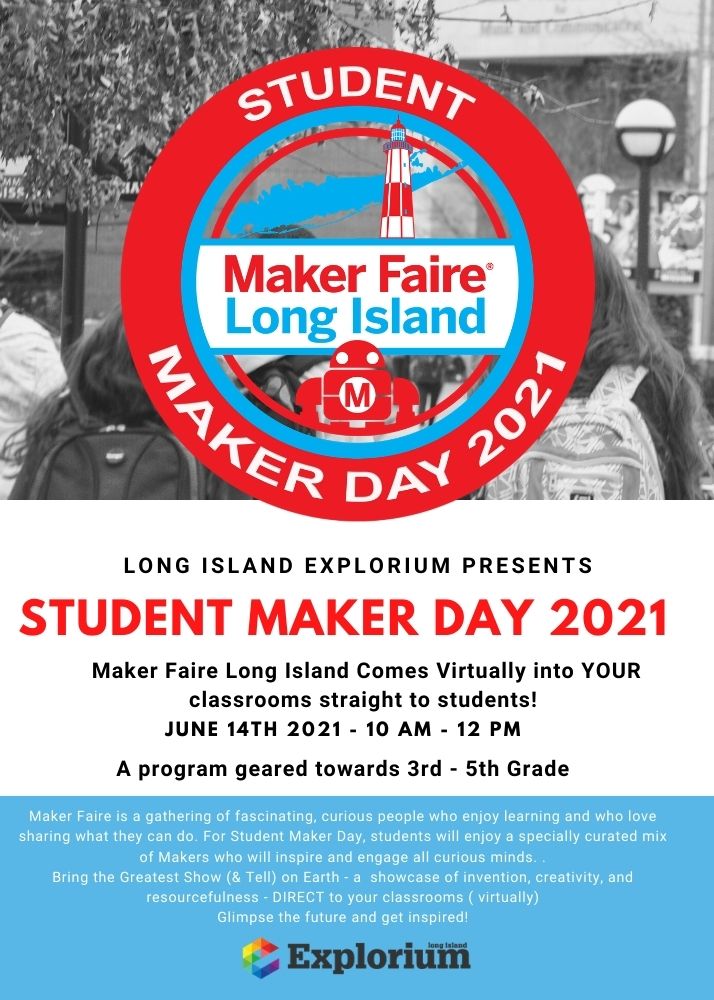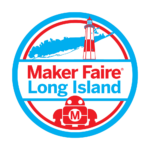 Student Maker Day
On June 14th, 2021, Maker Faire Long Island and the Long Island Explorium were pleased to welcome 950+ students, 3rd, 4th, and 5th-grade students from North Babylon School District to the very first Student Maker Day Long Island. 
Lisa Collet Rodriguez & Angeline Judex
Maker Faire Long Island Co-Producers


We thank the following makers for their generous generosity and support by volunteering for the Maker Faire Long Island's first Student Maker Day.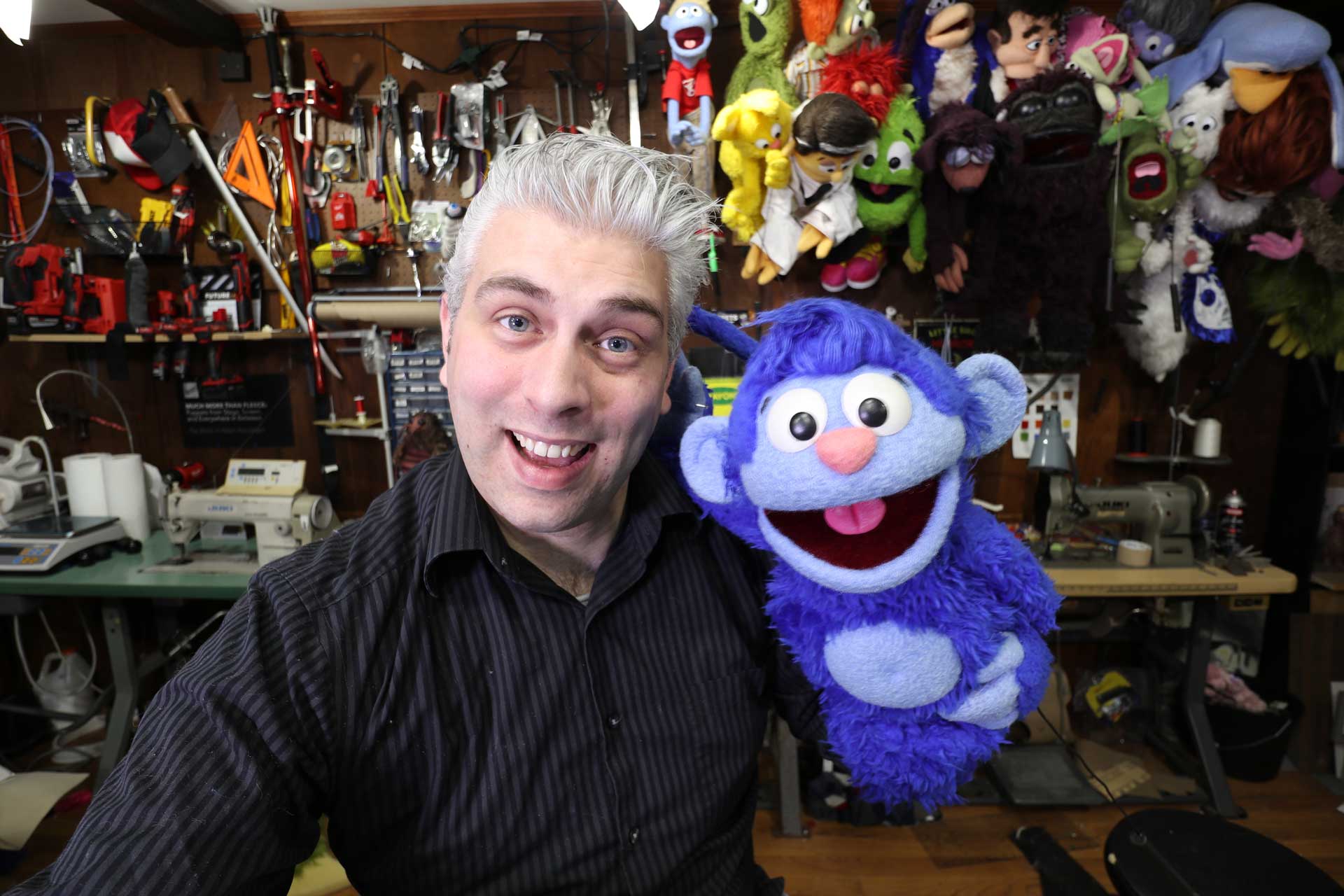 Adam Kreutinger
Adam Kreutinger is a puppeteer, puppet maker, and YouTuber. He has designed and constructed puppets for television, film, and theatrical productions internationally. His puppets have also appeared on Comedy Central and Adam Savage's TESTED. He designed and constructed puppets for "Kune's Kitchen", a children's television show in New Zealand on TVNZ - Kidzone. When he is not making puppets for productions, Adam makes weekly videos teaching people how to create and perform their own puppet characters.
Adam Kreutinger's Student Maker Day Session
Try out this fun and easy paper puppet craft that is sure to push your child's creativity levels with the endless design options this simple craft affords.  
What Materials are Needed?
This craft is so easy that the materials can be as simple or vast as you'd like. The essential materials are a sheet of paper and a pen or marker that you can decorate with. Additional materials, such as, glue, construction paper, googly eyes, fur, and more can be used if you'd like as well.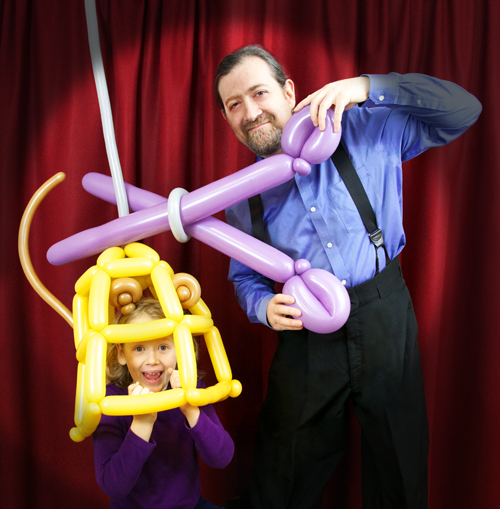 Airigami
Airigami Founder and Creative Director, Larry Moss is full of hot air and visionary ideas. He combines the two with balloons and twists them into community-building art experiences. In his role with Airigami, Larry leads a team of artists who create large-scale installations, illustrations, and experiences entirely out of balloons — from small single sculptures to stadium-sized, record-breaking installations.
Program
Airigami Founder and Creative Director, Larry Moss is full of hot air and visionary ideas. He combines the two with balloons and twists them into community-building art experiences. In his role with Airigami, Larry leads a team of artists who create large-scale installations, illustrations, and experiences entirely out of balloons — from small single sculptures to stadium-sized, record-breaking installations.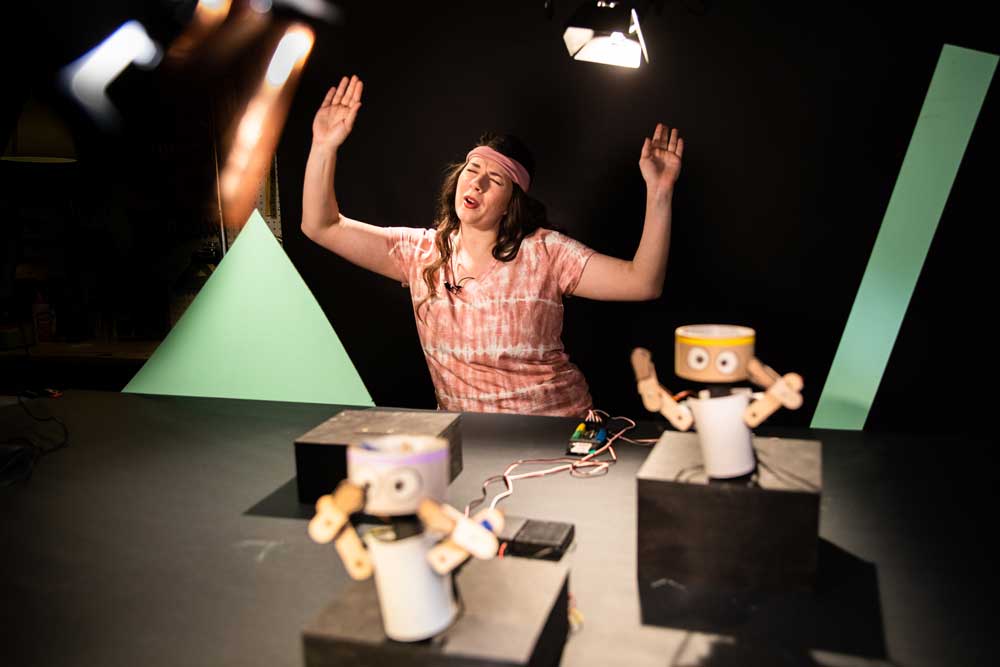 CodeJoy
CodeJoy produces live, interactive, student-facing shows that get kids coding and controlling the pre-built robots in their studio. Their 45-minute sessions center around a narrative, and kids use code to help Kelsey and her robot friends solve problems.
Kelsey Derringer, CodeJoy's on-screen teacher, is an educator with 18+ years of classroom and professional development experience. She specializes in teaching robotics and coding to non-CS teachers, helping them bring creative robotics into other subject areas.
Matt Chilbert, CodeJoy's director, is an educational media producer with 10+ years of classroom experience and 20+ years of experience in filmmaking, including working at Sesame Workshop and the Jim Henson Company. He specializes in creating story-driven learning experiences that use filmmaking techniques to keep kids' minds focused on learning goals.
Program
Kelsey and Matt the Robot are leading a dance fitness class designed to get the robots of the world moving, and they need your help to code the dancers. Feel free to groove along with the robots as you program their servos to swing to the beat.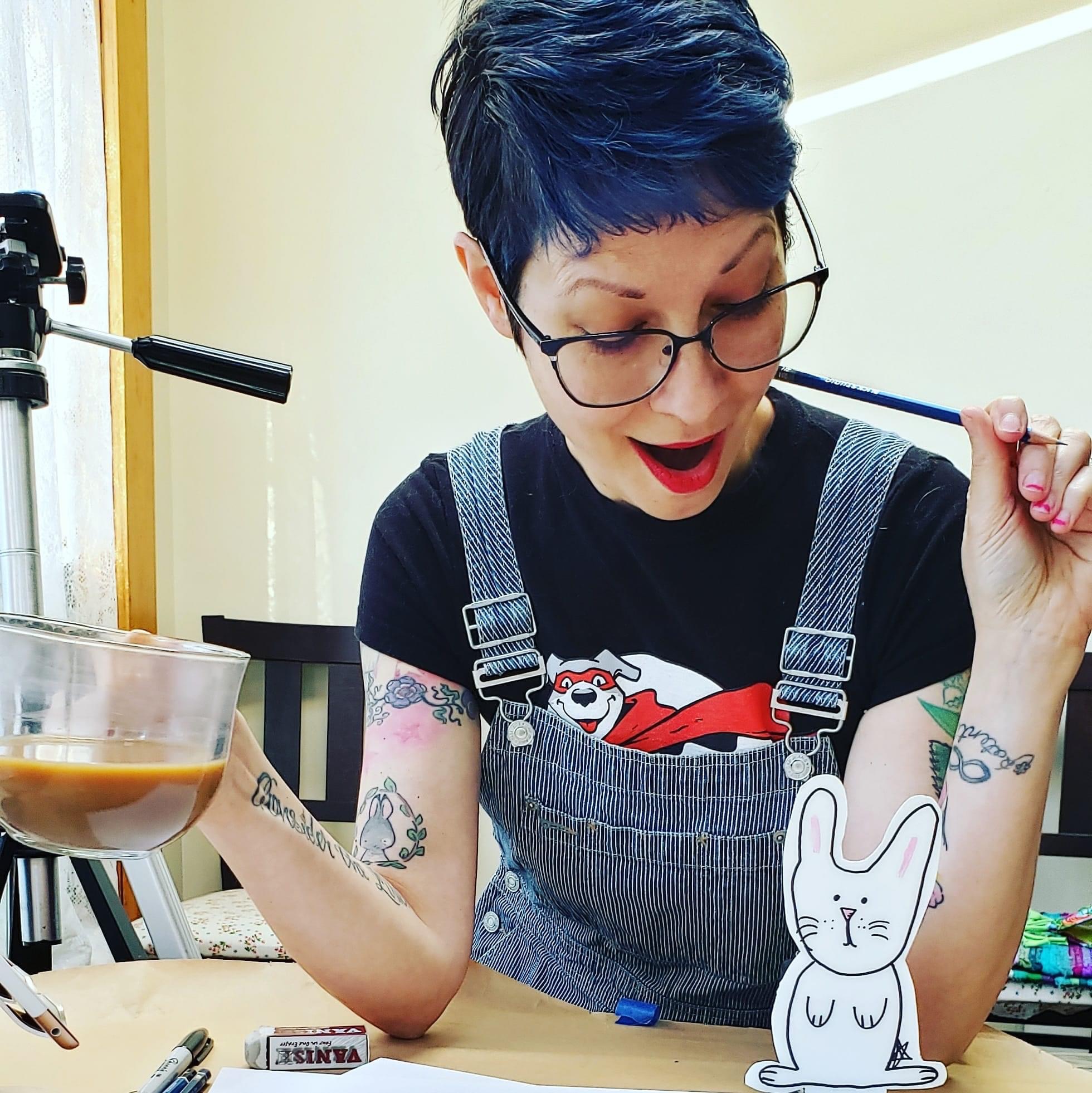 Filomena Jack Studio
I have been creating art for more than 25 years and am generally overstimulated by cute, bizarre, and funny topics. I received my BFA from Jersey City University, teach art to a variety of audiences, am a certified life coach (see: Coach Filomena ), and am always learning all I can about my materials and processes. I do my best to only use materials that are humanely sourced. Synthetic brushes, gesso, and papers that do not have animal ingredients, and so on. 
Program
Draw and color floating bubbles with street artist Filomena Jack!
Learn how to create the illusion of floating bubbles with simple art supplies.
Supply list: white drawing paper (any thing will do), rulers, pencil/erasers, crayons or colors pencils.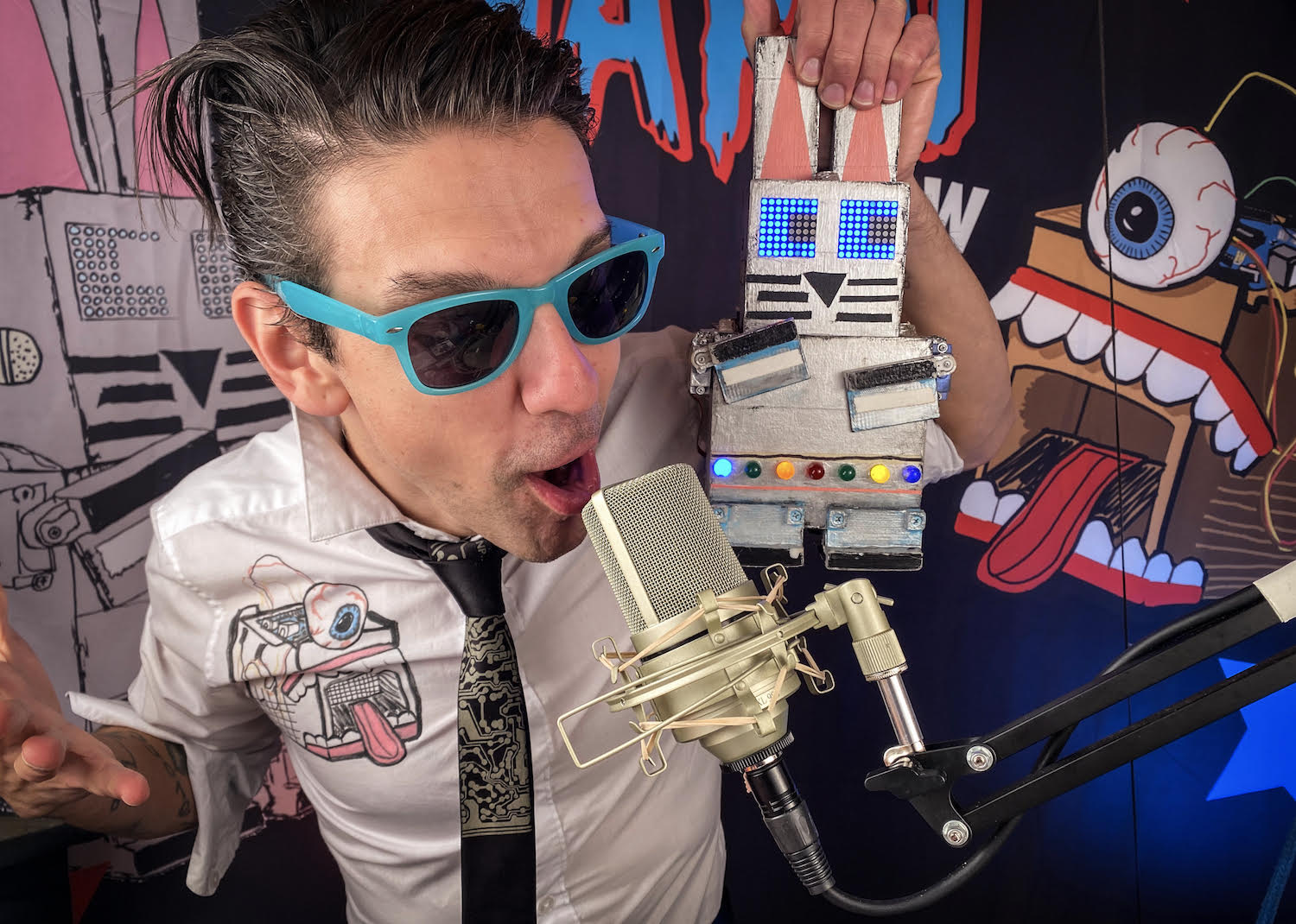 Mario the Maker
Mario "the maker magician" marchese is a NY-based (normally touring) performer with an all-ages theater show full of homespun magic, diy robotics, and punk rock slapstick. it's magic through the lens of the maker movement! for the virtual stage, Mario has developed an innovative virtual experience, available as a public ticketed show or a private Zoom event.
Mario has appeared on Sesame Street, NBC's Universal kids, HGTV, and live on tour with David Blaine, who calls him "the best kids magician in the world!!" he is the author of The maker magician's handbook: a beginner's guide to magic & making. And his lecture for magicians won him the 2020 lecture of the year award from penguin magic!
​
His newest robotic magic creations for social media have garnered a lot of attention! Meet Automabot, the cardboard robot magician!
Program
Mario the Maker Magician joins us to kick off our event with some interactive magic, slapstick, and homemade robots! Mario is a touring family performer and the author of The Maker Magician's Handbook. He's a regular at Maker Faires around the world, and he has even toured with David Blaine, who calls him "the best kids' magician in the world!!" Mario is so excited to be a part of this special virtual experience!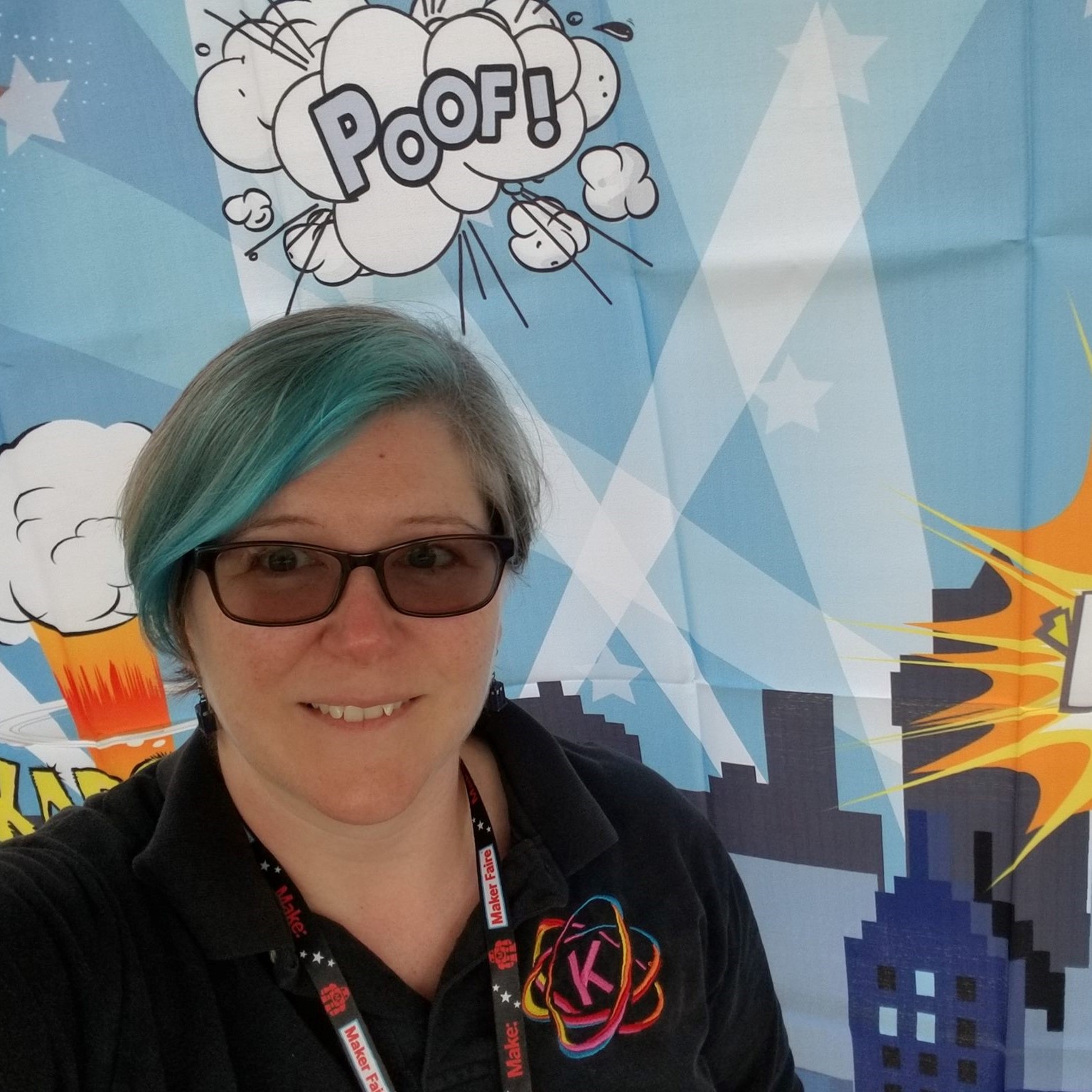 Kaleidoscope Enrichment, LLC
Sandy Roberts, Kaleidoscope Enrichment, earned her B.S. in Chemical Biology from Stevens Institute of Technology with a Minor in Literature and Certificates in Chemical Engineering and Computer Science. After working in both publishing and pharmaceutical research for several years, she changed careers and became a middle school science, math, and engineering teacher. In addition to a formal classroom, she owns Kaleidoscope Enrichment, LLC, offering after-school, homeschooling, and other local programs. Recently, she became the Makerspace Coordinator for the Warren County, NJ Library System and founded the system's first Makerspace. Roberts regularly brings her Maker Camp projects to MakerFaire in New York and has earned multiple ribbons for her team's work. She's also presented at Maker Faire three times, sharing her Maker Camp success tips with fellow educators.
Program
Hack and Fold and Light Up Origami Firefly
Combine simple electronics with the centuries-old Japanese papercraft art of Origami. We'll hack common dollar store items to create 3D papercraft projects that light up! This is a great way to teach art, design, engineering, and basic electronics. We'll start with one of the simplest designs -- a firefly for summer. For this project you will need an electric tealight, aluminum foil, origami paper (or copy paper cut into a square), a glue stick, invisible tape, scissors, a small screwdriver, a permanent marker (optional) and google eyes (optional, but lots of fun).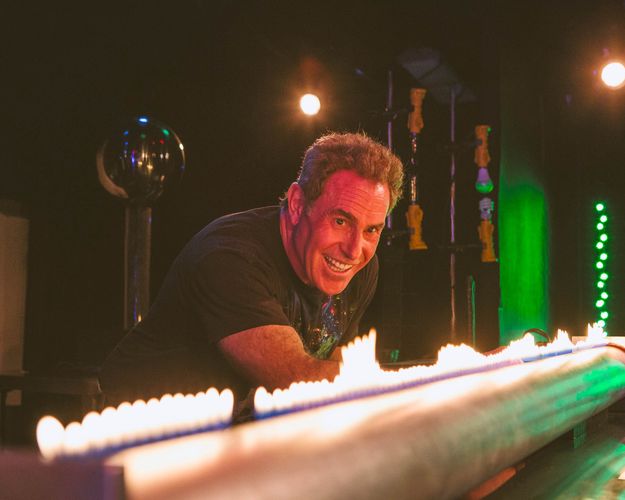 That Physics Show,
The mission of the Science Theater Company states that science is most effectively taught through combining Science, Technology, Engineering, Art, and Math. STC programming uniquely captivates, empowers, and educates audiences who previously might have thought that science was inaccessible, inexplicable, boring, or irrelevant. It also counteracts science illiteracy and denial by increasing understanding and confidence that scientific principles are based on objective, verifiable facts, and experiments.
David Maiullo has been a physics demonstrator at Rutgers University for over 20 years. He has become a regular on The Weather Channel as well as a presenter at national physics festivals.
Eileen Sugameli is an NYU/Tisch Drama honors graduate with extensive film and theater credits, including several years assisting 'That Physics Show' as well as assisting, demonstrating, and helping to develop 'That Chemistry Show.'
Eric Krebs, whose theatrical career spans more than 40 years,has worked as a producer, a theater founder and operator, a college professor and occasionally as a performer. In 1974 He founded the George Street Playhouse regional theater in New Brunswick, New Jersey, now in its 45th year. He built and operated Off-Broadway's John Houseman Theater Center and Douglas Fairbanks Theater for over 20 years. In the not-for-profit theater, he founded and for fourteen years was the Producing Director of the George Street Playhouse, a professional (LORT) theater in New Brunswick, New Jersey. For 25 years, he was the chairman of Amas Musical Theatre, a not-for-profit theater founded by Rosetta LeNoire and dedicated to the training of "city kids" in the performing arts and the creation of new musicals for multi-ethnic casts. He was awarded the Robert Whitehead Award for excellence in producing in February, 1999. Mr. Krebs recently retired after 50 years as a professor of theater arts at Baruch College, City University of New York , where he continued a career as an educator that began in 1969 at Rutgers University (37 years) in New Jersey, where he is professor emeritus.
Program
Lifetime professional physics demonstrator David Maiullo brings his scientific "magic" from the world of physics a classroom version of the Off-Broadway show. THAT PHYSICS SHOW!
Based on the hundreds of physics experiments that are presented at physics conferences and in classrooms across the country, THAT PHYSICS SHOW features segments on motion, momentum, vacuum, friction, energy, density, fluid motion, sound waves and sound vibration, light waves, temperature and much more from our incredible world: a world controlled by physics.
Winner of the 2016 Drama Desk Award for "Unique Theatrical Experience"
Created by Dave Maiullo
A classroom version of the Off-Broadway show, not the actual production.
The Maker Movement is a term that refers to the growing community of independent artisans, technologists, and people from all walks of life who create new products, technologies, processes, and ideas. The maker movement has given rise to makerspaces -- places in public or private areas where interested "makers" congregate and share ideas and equipment. The Explorium is a makerspace, and ours is offered to the community based on a constructivist pedagogy.
Sponsorship Opportunities
Thank you to all our Student Maker Day sponsors and supporters!