Maker Faire Long Island. The Greatest Show and Tell on Earth.
Join us for our Summer of "Making"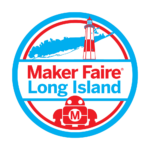 News Regarding our 2021 Maker Faire Plans.
Throughout the year, Makers have shown their resilience, ingenuity, and care for others. 
We want to continue to shine the light on all things Maker and come back bigger, stronger, and more resilient. We are already planning our 2022 Maker Faire Long Island for June 11th, 2022 but wanted to highlight our plans for this year, as it is the critical transition year for our community.
This Summer, we have a call out to Makers and will be doing a mix of virtual and in-person events kicking off with our SUMMER OF "MAKING". Emphasis is to bring the spark of making and invention to the children.
Our kickoff to the Summer will be our first ever Student Maker Day on June 14th from 10 AM - 12 PM, in which we have partnered with a wonderful local Title 1 school district to provide them with a free Student Maker Day. We are looking for engaging, fun Makers experienced with presenting with children, that are willing to "zoom in" and do short virtual workshops during that time for the students in grades 3rd - 5th.
Lisa Collet Rodriguez & Angeline Judex
Maker Faire Long Island Co-Producers
The Maker Movement is a term that refers to the growing community of independent artisans, technologists, and people from all walks of life who create new products, technologies, processes, and ideas. The maker movement has given rise to makerspaces -- places in public or private areas where interested "makers" congregate and share ideas and equipment. The Explorium is a makerspace, and ours is offered to the community based on a constructivist pedagogy.
Sponsorship Opportunities
Thank you to all our 2019 sponsors and supporters!