The Long Island Explorium is housed in the beautiful historic Chandlery Building in Port Jefferson village.  The building was built in the 1890's and served as the chandlery, a store that sold nautical gear, candles, rope, sail repair kits and all of the other equipment a ship would need for a long voyage.
Visitors to the Explorium will enjoy fun and interactive hands-on exhibits all aimed at fostering the understanding and love of STEM.
Hours
Saturday and Sunday
1:00pm - 5:00pm
(Other times by reservation)
Admission
$5 per person
Members and children under 1 are free
Port Jefferson Library card holders - $1 off each admission ticket
May 5-6 Exoplanet Transits
Design a Transit Method to assist NASA scientists' search for distant planets.
Maker Spotlight!
May 5 – Ray and his robot " Volt". Teach kids to make their own Bristlebots
May 12-13: Message in a Bottle for A Special Woman in your Life
Write a Heartfelt message and place in a decorated bottle for a Keepsake for your Mother.
May 19-20: Space Telescope
Design, build, and test a tool to discover new discoveries to better understand the Universe.
May 26-27: Mars Rover
Program a Mars Rover to navigate and collect valuable information for NASA Scientists (good to match with a coding activity)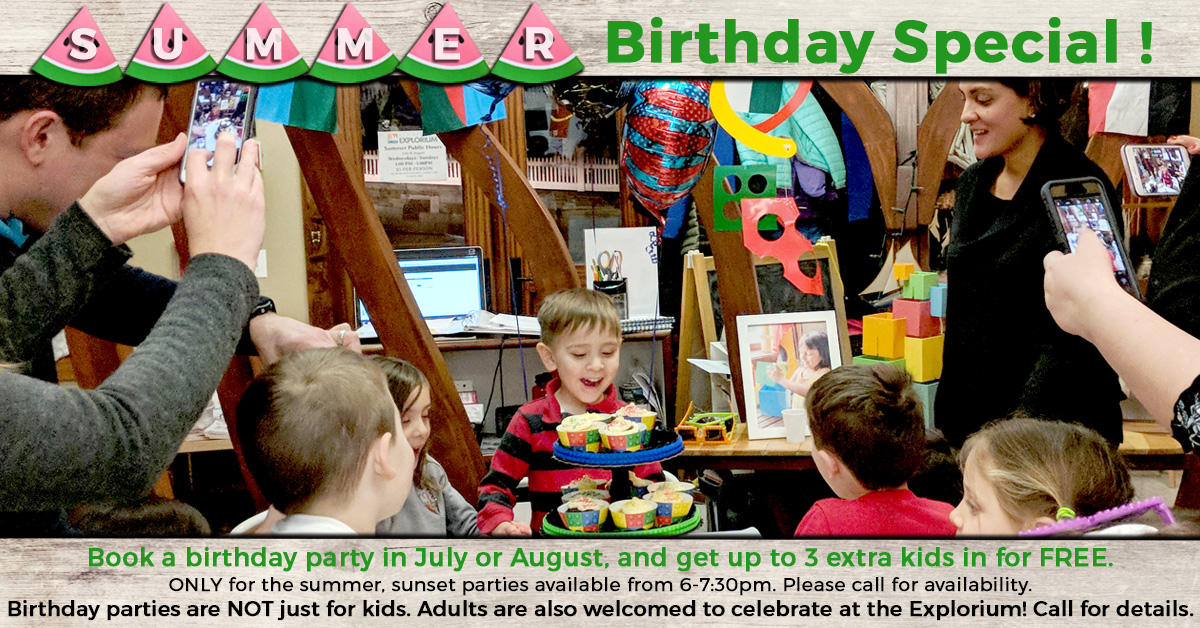 Children will enjoy 90 minutes of exciting, interactive activities.
Two teachers to facilitate activities
Activity materials
Invitations
Paper goods
Pizza and drink
Music
Guest pass for a future visit for every child
Dates and times by reservation
Call: 631-331-3277
Email: carole@LongIslandExplorium.Org
Price $250
Up to 10 children included in the price, each additional child is $15
Parents supply any additional food, cake or cupcakes, drinks and snacks