Summer Camp 2023
Jul 10, 2023 9:00AM—Aug 18, 2023 3:00PM
Cost Full Day $575/Half Day $375
Event Contact Katie Brown | Email
Categories Summer Camp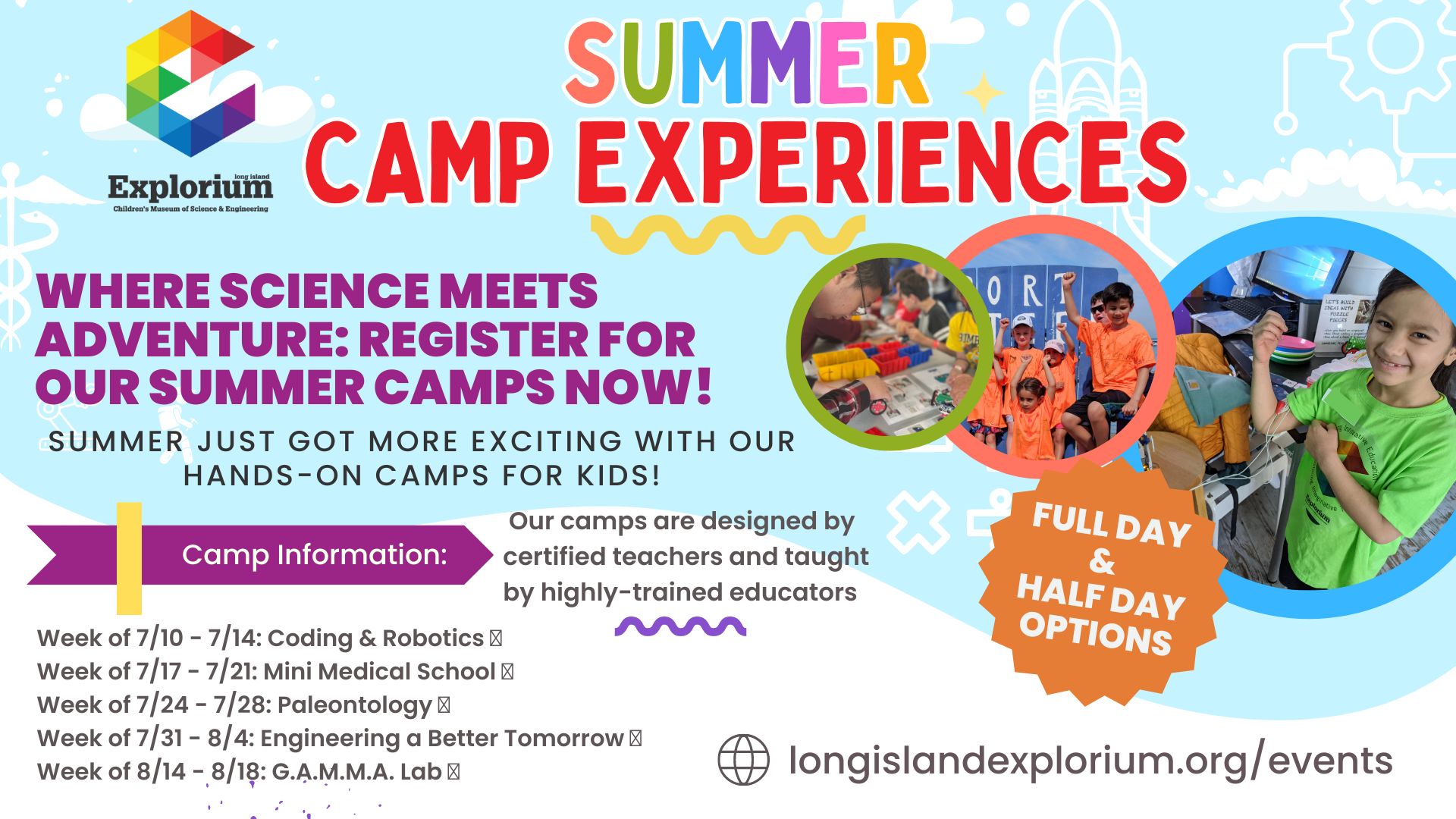 5 Weeks

of Unique Camps
The ultimate summer camp experience: Adventure, education, and memories that last a lifetime!
Register now for the Long Island Explorium's Summer Camps 2023
Welcome to our exciting Summer Camp program!
Our camps offer a unique and engaging experience that combines hands-on learning with fun and adventure. Our team of experienced educators is dedicated to providing your child with the tools and skills they need to succeed in the ever-changing world of STEM. From exploring the wonders of the natural world to discovering the technology behind space exploration, our camps offer a wide range of programs that will ignite your child's curiosity and foster a love of learning.
Don't miss out on this incredible opportunity to give your child an unforgettable summer of exploration and discovery! Register now to secure your child's spot in our Summer Camp program.
Space will be limited. Register now.
Registration Now!
Cancellation Policy:  
Two weeks before the camp start date will receive a refund, minus an administration fee of $30 per Camp Week canceled. Cancellations made less than two weeks before the start of camp will receive a credit toward future bookings or registrations.
Camps are subject to registration numbers.
July 10th - 14th, 2023
CODING & ROBOTICS -
In this camp, students will learn about different kinds of robots and how they are built! The goal is to introduce participants to each different component that makes a robot work and how they all work together in order to make a robot accomplish a task. From robots that dance, to robots that work in factories - join us in exploring this subset of mechatronics! Students will learn about and use many robotics components, including various sensors, motors, and wires, as well as basic programming techniques. This camp will give students context about real-world robotics projects, career paths, and role models while providing fun and exciting activities and games.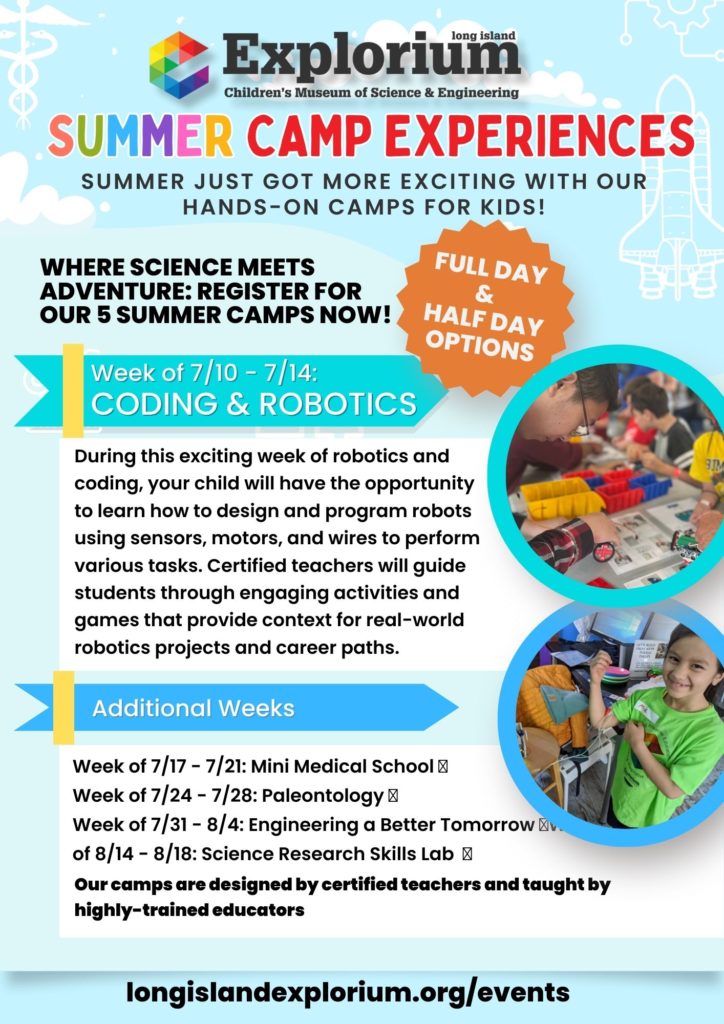 July 17th - 21st, 2023
MINI MEDICAL SCHOOL -
Do you enjoy helping others? Is it your dream to become a doctor? The Long Island Explorium is excited to bring back its Mini Med-School camp again this summer! Children will learn about different disciplines in the field of medicine, and understand a rewarding profession that is driven by service and makes a positive impact in people's lives!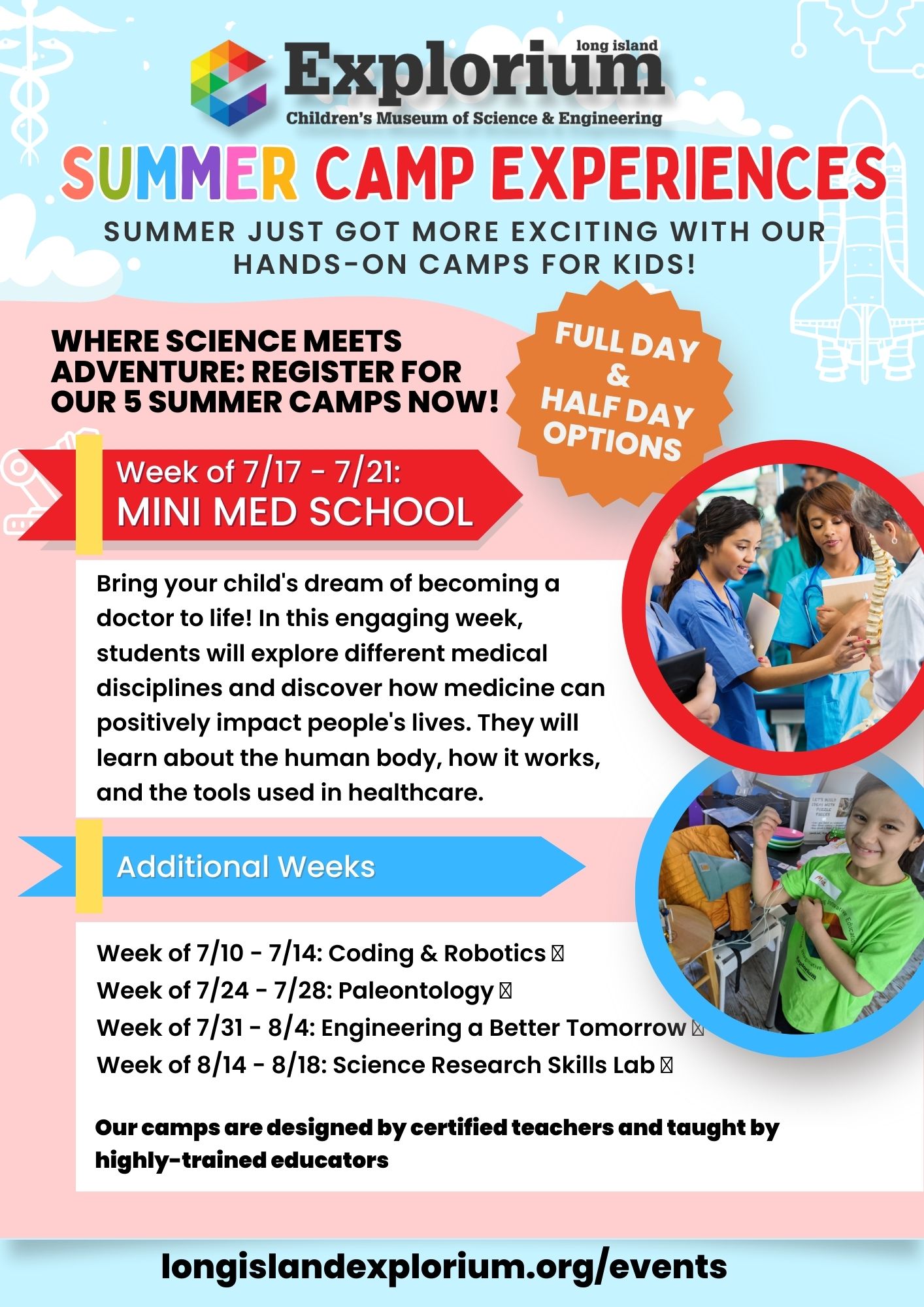 July 24th - 28th, 2023
PALEONTOLOGY -
This program will teach students about the field of paleontology and its current day career applications. Throughout the week, students will explore the different branches of paleontology and how earth has changed its living creatures overtime. Each day, students will investigate a different dinosaur from the past and their adaptations to different environments. At the end of camp, students will become young paleontologists and archaeologists themselves and will explore, dig for and analyze fossils. This camp will be held indoors and outdoors.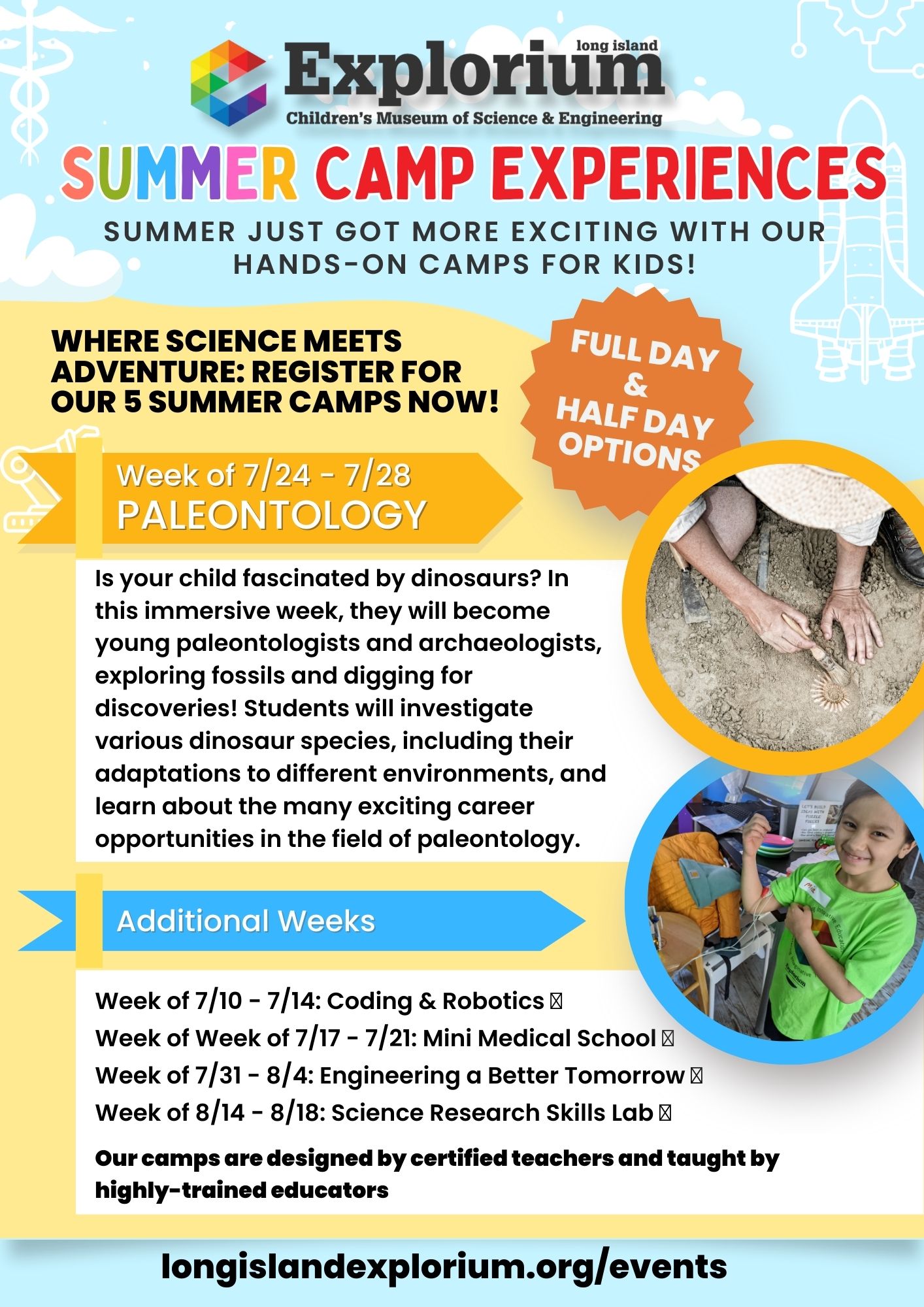 July 31st- August 4th, 2023
ENGINEERING A BETTER TOMORROW
Join us for an exciting journey through the world of STEM and discover how science and technology can be applied to make the world a better place. During this exciting week of engineering explorations, students will discover the many ways science and technology are making the world a better place. Students will learn about alternative energy sources, sustainable farming, artificial intelligence, and more. Each day will be packed with hands-on activities for students to explore ways to engineer a better tomorrow.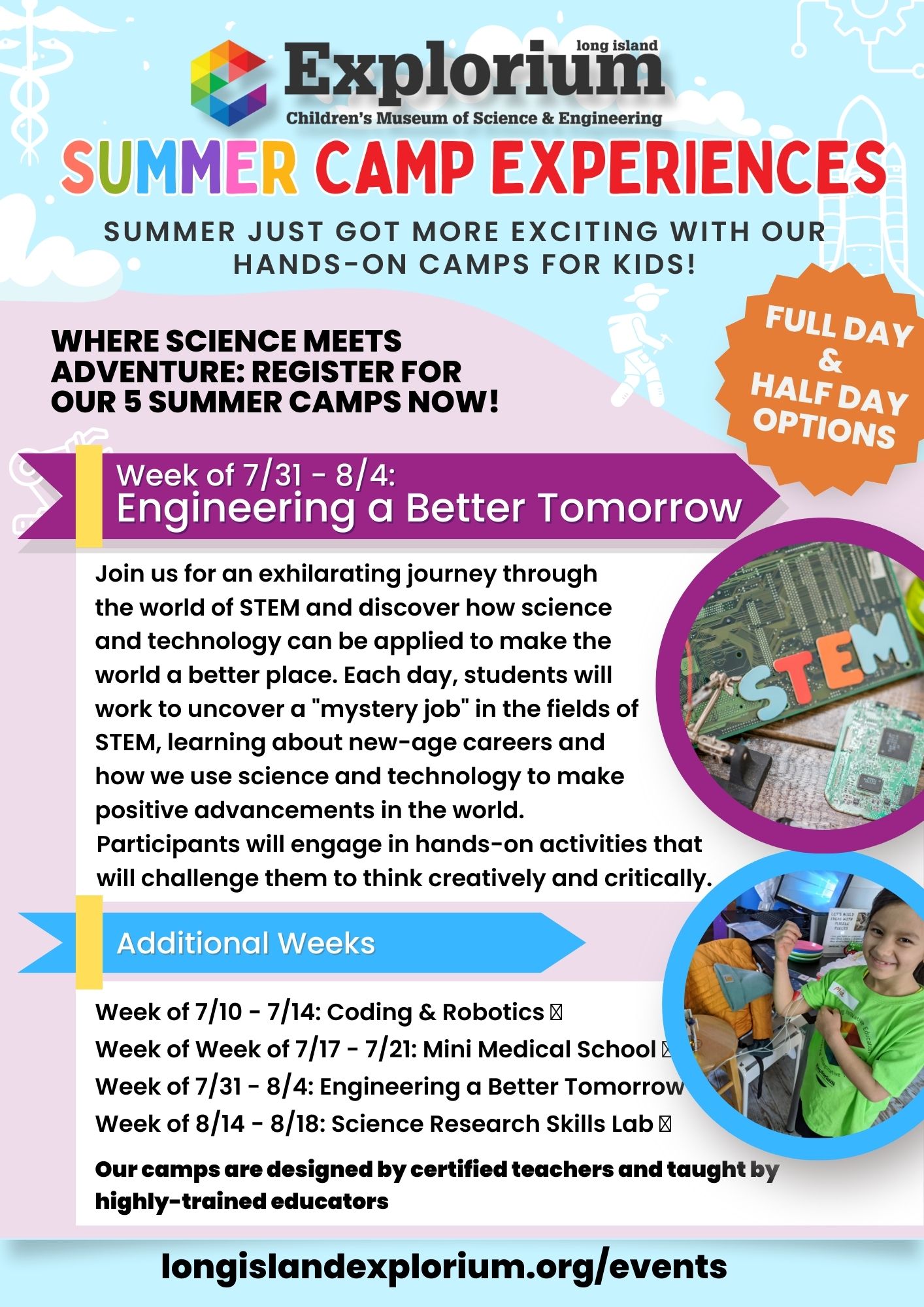 August 14th-18th, 2023
SCIENCE RESEARCH LAB (G.A.M.M.A. Lab)
NEW FOR 2023!
Embark on an exceptional camp experience tailored to upper elementary students (5th, 6th, 7th), equipping them with the tools for Middle School science and research success. Our innovative program offers real-life, hands-on research opportunities in both field and classroom settings. Campers will engage in captivating techniques, such as drone piloting, mapping, and 3D modeling, while exploring captivating scientific realms like geology, marine biology, atmospheric studies, and space science. Join us for an unforgettable adventure, where learning intertwines with exploration, empowering young minds with the knowledge and skills to thrive in scientific endeavors. Secure your child's spot today and unlock a world of discovery!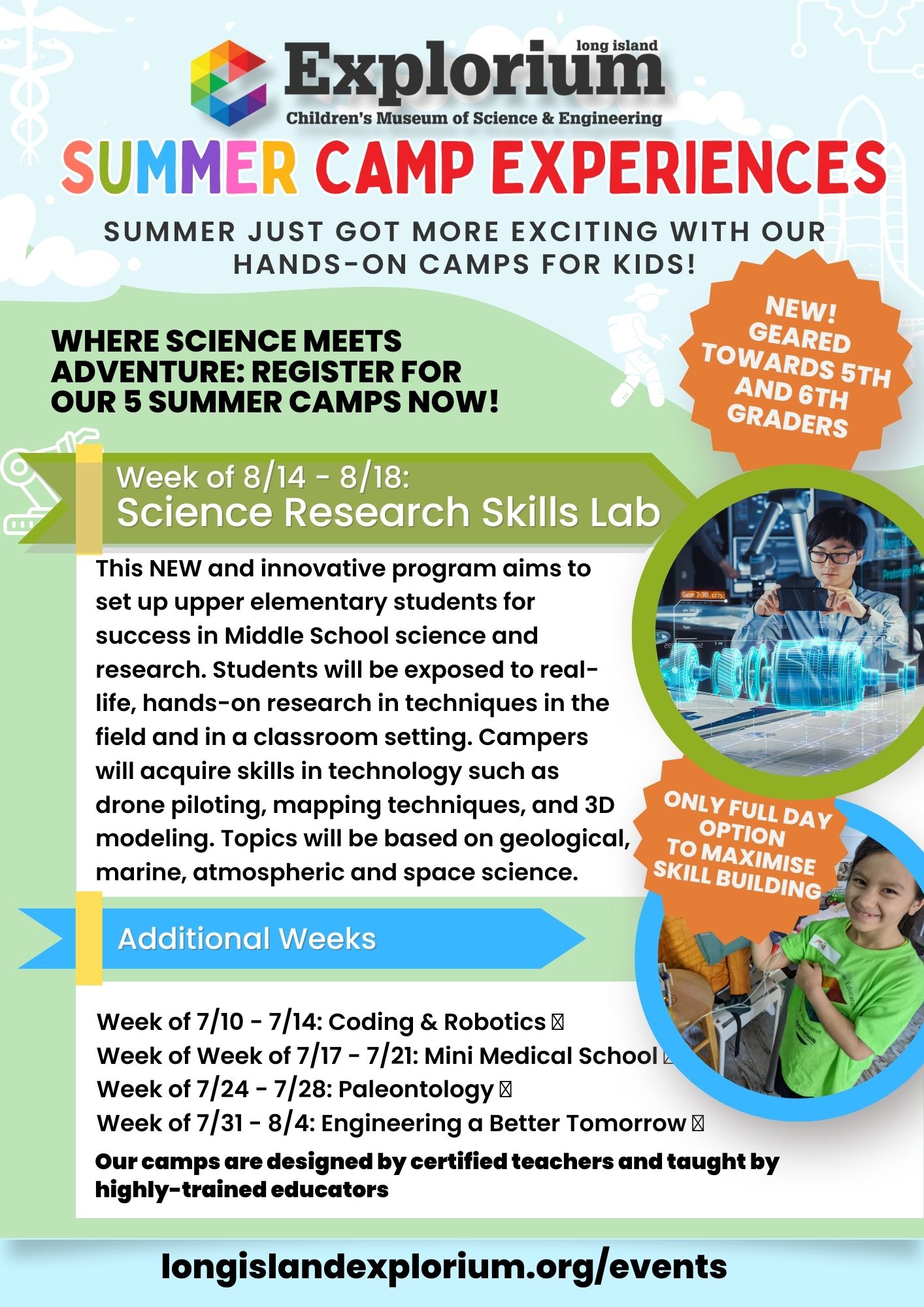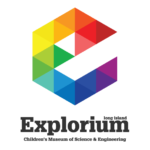 "Our daughter, age 7, participated in a recent STEM exercise via group ZOOM call. We really like how the teacher, challenged the children to think about the problem and alternative solutions. Amazingly well done, start to finish. If you are looking to add to your child's experience in science, this is it."
"My child is enjoying the program very much. For her it is something interesting to look forward aside her school work, in which she is losing interest now."
"So you definitely did something right in instilling a confidence and a desire for inquiry in them that I haven't seen before. The experience definitely exposed them to something more than they would have had in their district and yes I teach science but what you did surpassed the standards. There is a silver lining in this storm of remote learning."
If you have any technical issues registering, use the form below to contact us.