THE LONG ISLAND EXPLORIUM AWARDED IF/THEN® Gender Equity Grant.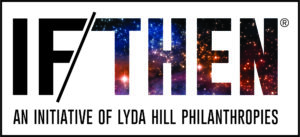 FOR IMMEDIATE RELEASE
2/10/2021
CONTACT:
Lisa Rodriguez
Director Digital Media/
Marketing Long Island Explorium
lisa@longislandexplorium.org
https://longislandexplorium.org/
THE LONG ISLAND EXPLORIUM AWARDED IF/THEN® Gender Equity Grant. 
THE Long Island Explorium is pleased to announce that we have been selected by the Association of Science and Technology Centers (ASTC) along with 27 museums from across the country to participate in  IF/THEN® Gender Equity Grants. Through the support of IF/THEN®, an initiative of Lyda Hill Philanthropies®, more than $300,000 is being awarded to ASTC-member science and technology centers and museums in the United States seeking to address equity in gender representation across museum content.
The IF/THEN® Gender Equity Grant program offers science centers the opportunity to launch projects that increase the representation of women and gender minorities in STEM, as part of their broader efforts to advance diversity, accessibility, inclusion, and equity.
IF/THEN® partnered with ASTC and its network of nearly 400 science and technology centers and museums across the United States to provide a multi-round grant program of $650,000 for ASTC-member museums to showcase greater gender diversity across their exhibits, displays, and materials by using assets from the IF/THEN® Collection. This investment is particularly needed: according to preliminary information collected by ASTC, women make up just 21% of STEM professionals in museum exhibits.
The IF/THEN® grant will support the Long Island Explorium's efforts to amplify  gender representation in both museum content and programming through the creation of new museum signage, the production of media content, and the development of new content highlighting women in STEM to augment our existing STEM workshops. " "We are very excited to be part of this IF/THEN® project and to show all who visit and learn with us that #shecanstem! All young girls deserve a future in STEM and "IF she can see it, THEN she can be it". We look forward to inspiring girls to pursue careers in STEM", said Angeline Judex, Executive Director. 
—————————-
About the Long Island Explorium
The Long Island Explorium is a 501(c)3 not-for-profit and is chartered with the New York State Department of Education.  Our vision is to be a leader in STEM discovery, learning and innovation that will shape the intellect, social values and principles of future generations Our curriculum, exhibits and educational approach are unique by design, developed to spark inventive solutions, build confidence by embracing the "fail forward" concept and foster teamwork. We are recognized as Long Island's Family Maker Space. To learn more, visit www.longislandexplorium.org/ and follow us on Facebook, Twitter, Instagram, and LinkedIn.
About IMLS
The Institute of Museum and Library Services is the primary source of federal support for the nation's approximately 120,000 libraries and 35,000 museums and related organizations. The agency's mission is to inspire libraries and museums to advance innovation, lifelong learning, and cultural and civic engagement. Its grant making, policy development, and research help libraries and museums deliver valuable services that make it possible for communities and individuals to thrive. To learn more, visit www.imls.gov and follow us on Facebook and Twitter. 
About IF/THEN®
IF/THEN® is part of Lyda Hill Philanthropies®' commitment to fund game-changing advancements in science and nature. IF/THEN® seeks to further advance women in STEM by empowering current innovators and inspiring the next generation of pioneers. Rooted in a firm belief that there is no better time to highlight positive and successful female professional role models, IF/THEN® is designed to activate a culture shift among young girls to open their eyes to STEM careers by: (1) funding and elevating women in STEM as role models, (2) convening cross-sector partners in entertainment, fashion, sports, business, and academia to illuminate the importance of STEM everywhere, and (3) inspiring girls with better portrayals of women in STEM through media and learning experiences to pique their interest in STEM careers. To learn more, visit www.ifthenshecan.org or follow IF/THEN® on Facebook, Twitter, Instagram and LinkedIn.
About Lyda Hill Philanthropies®
Lyda Hill Philanthropies® encompasses the charitable giving of founder Lyda Hill and includes her foundation and personal philanthropy. As one of its priorities, Lyda Hill Philanthropies® funds transformational advances in science and nature. To learn more, please visit lydahillphilanthropies.org.
About ASTC
Founded in 1973, ASTC is a network of nearly 700 science and technology centers and museums, and allied organizations, engaging more than 110 million people annually across North America and in almost 50 countries. With its members and partners, ASTC works towards a vision of increased understanding of—and engagement with—science and technology among all people. Visit www.astc.org or follow ASTC on Facebook, Twitter, LinkedIn, and Instagram.
###